Gallery
BMDCV Autumn Picnic – 17 May 2015
We had a glorious balmy day for our Autumn picnic at Gardiners creek.  Thanks to everyone who came and we look forward to seeing you at another club event soon.
The Dog Lovers Show – May 2015 
This year we participated in the Dog Lovers Show from 1-3 May 2015 and once again we proved to be very popular.
Pet & Animal Expo – February/March 2015
Once again the BMDCV had a stand at the Pet & Animal Expo in at the Royal Melbourne Showgrounds.  As usual, the Berners were a huge hit.  Thanks to everyone who participated.
BMDCV Picnic at Jells Park – February 2015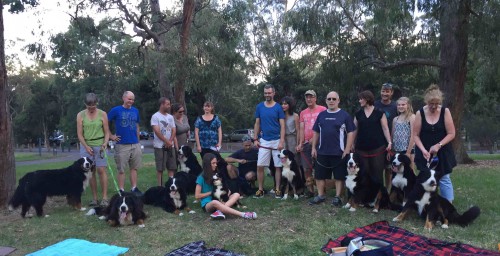 The BMDCV's inaugural February picnic was a huge success cleverly slotted in between the heat of the day and the forthcoming storms.  Thanks to everyone who came and we look forward to seeing you again at the next one in May.
Berners at the Botanical Gardens Moonlight Cinema
Throughout the summer, Moonlight Cinema at the Botanical Gardens has a Doggie Movie night every second Thursday.  A group of us started off our Berner events for 2015 by going along with out Berners to see Grease.  Our Berners were, of course, a big hit amongst the other patrons!  And all our Berners enjoyed their 'doggy popcorn' – little containers of dog food.
BMDCV Christmas Party – December 2014
Despite the rather warm weather on Sunday, our annual Christmas party was a great success.  Games and activities were limited to those that did not require exertion like pass the parcel and of course we still had our annual Christmas parade.  Some much deserved recognition and thanks were given to those who have raised money for the club and the Guardian Angels fund.  We also were were also delighted to welcome two dogs rescued through the Guardian Angels program. Evie and Humphrey are wonderful ambassadors for the Guardian Angel program showing rehabilitation of rescue dogs is possible.  It also gave us a chance to recognise and thank the owners of all our rescue dogs – without their endless love, patience and perseverance these dogs would not be where they are today.
Congratulations also to Nikki Smith and Archie "Bernation Archys Crusade" who were the winners of this year's Shining Knight award.  It was a tough field this year for the award with a record number of submissions so well done Nikki & Archie.  For more on Archie's accomplishments click here.
Berners at Rippon Lea – November 2014
On 8 November Rippon Lea opened their gates to pooches for the first time.  Unfortunately the day was too hot to really enjoy the lovely grounds but we made the most of the superb setting to take photos of our lovely fur kids.
The BMDCV Obedience/ Fun Day – October 2014
Thanks must go to Nikki Smith and her team of helpers, Sue, Robyn and Wendy!  We had a great turn out with 20 dogs and about 30 people.  The youngest dogs were 4 month old puppies Lenny and Maverick who showed that it is never too early to start training.  The oldest dog in attendance was 10 year old Bosley who showed the younger dogs how easy it all was.  We had a huge age range of people too and it was great to see the kids teaching the dogs with such skill.   Our newly learned skills were then put into practice playing games, like Simon Says and Egg & Spoon (aka Tennis Ball & Pooper Scooper) Races.  The fun and games were followed by a delicious afternoon tea.  Thanks everyone for coming and for those who missed out this time, keep a look out for the next one!
The BMDCV breed stand at the Royal Melbourne Show, September 2014
July & August 2014  – Snow walks
June 2014 – BMDCV Open and Championship Show
December 2013 – the BMDCV Christmas Party