Guardian Angels Quilts
As anyone who has a pet will know, visits to the vet can be extremely expensive.  When dogs are rescued by the club they will inevitably need veterinary care and this can quickly drain funds.  Over the years we have been fortunate to have members that are both creative and incredibly generous with their time and effort.  One of our members, Jenny Martin, with the help of her quilter, Leanne Kaufman has donated a beautiful handmade quilt that we auctioned recently.  We do have more quilts to auction or raffle for Guardian Angels so keep an eye on this space!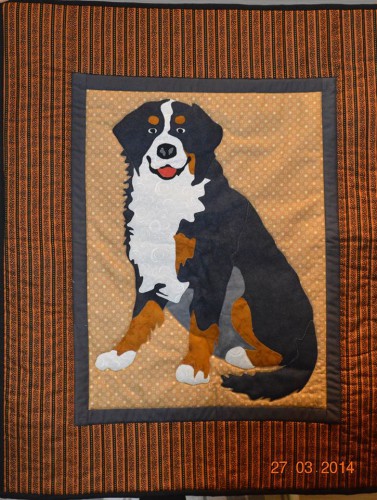 A note from Jenny:
"Hi my name is Jenny, I'm a full time mum to 2 kids and have a hubby called Phil. I am a mum to a gorgeous Bernese called Moose that I was lucky enough to get from Felicity 4 years ago. I am also a mad quilter. I live on 39 acres in Christmas hills near the Yarra Valley.

Not long ago I was surfing the net looking at all things Bernese, then I came across information on The Guardian Angels Program and what great work they do. I also saw that a group of ladies had previously donated a quilt to raise money for the organisation and I thought 'I can do that', and that's what I did. 

I then made a few quilt tops and asked my quilter Leanne Kaufman to quilt them and told her what they were for and without hesitation she volunteered to quilt them for free. Huge hugs to Leanne.

I then met up with lovely Wendy one Tuesday morning and we shared photos of our fur children and even shared a few tears talking about some sad stories about the dogs they had saved. What an amazing job they do. 

I gave her the quilts along with other things I had made and I hope with the quilts etc. that money can be raised to help The Guardian Angel Program to save our beautiful dogs. Keep up the great work. 

Thank you,
Jenny Martin"

Many thanks to Jenny and Leanne for their wonderful donation, time and effort. We are all very grateful.