Next Walk:
SEPTEMBER 23rd – Mt Evelyn (Lilydale to Warburton Rail Trail)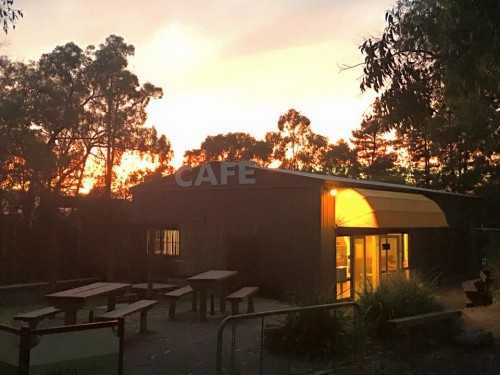 Spring has sprung so please join us on Saturday for a beautiful walk down a small portion of the Lilydale to Warburton Rail Trail.
The Lilydale to Warburton Rail Trail is an iconic 40 km recreation trail for walkers, cyclists and horse riders. The trail follows the path of the historical railway line through the stunning Yarra Valley starting behind Lilydale Railway Station and finishing in the Warburton township. We will start and end at the Happy Trails Café. A shorter walk will be available for puppies and older Berners.
The café offers a lovely selection of homemade food and locally-sourced items including art. The have an outdoor, dog-friendly area out the front for food and coffee, and a playground and stables out the back.
https://www.facebook.com/warburtontrail/
Please note there will be no off-lead walking and please stick to the left of the trail as cyclists and horses use this trail – please stay alert and watch out for horse poop!
Please join us at the café for a bite to eat or a drink after the walk. I recommend bringing extra water bowls, though water will be available for our dogs.
Where: Happy Trails Café – 1/4 Clancy Road, Mount Evelyn (rather than us hogging the limited parking at the café, please park down Marshall St or Clancy Rd – I have marked this in blue on the map below.)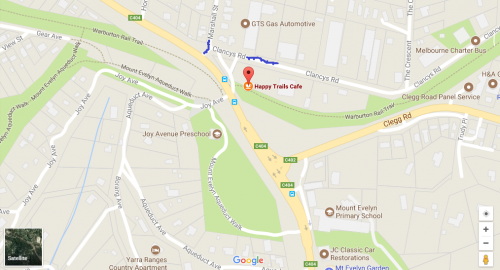 When: Saturday 23rd September 2017
Time: 9:45am for a 10:00am start
Please RSVP to Sheridan: 0419 113 229, or Tracey: 0459 803 913 or via the Club Facebook page. RSVP is a must so I can give the owners an idea of turnout.
* Subject to change if we have inclement weather. Please keep an eye on our Facebook page for details
---